Trustees & Administration
Learn about the people who look after the University's well-being and oversee its academic and business operations.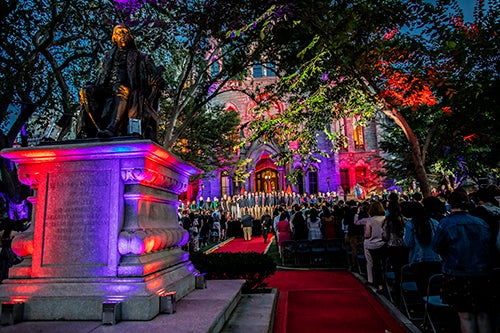 Explore President Magill's involvement in selected campus and world events, and read about her background and the functions of her office.
Information about Provost John L. Jackson, Jr. and the offices and programs he oversees: Education, Faculty, Global Initiatives, Online Learning, Research, and University Life.
Meet the administrators who run the University's nonacademic divisions.
Information about the Office of the University Secretary and Penn's official governing and advisory boards.
Meet the dynamic leaders of the University's 12 schools.
Hundreds of thousands of Penn alumni reside across the globe. The team at Penn Alumni Relations has made it their mission to seek to engage with all the University's graduates to support lifelong connections to each other and their schools, and to encourage alumni guidance to advance Penn's eminence for future generations.